Adult Community Programs
Monarch Tagging Classes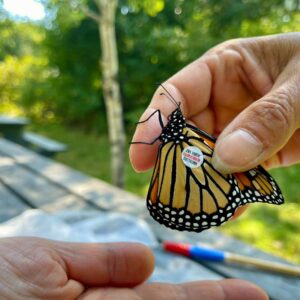 With Jennifer Unkles
Ages 3+
Tuesday, September 26, 4-5:30pm
Suggested Donation: $10–$30 per person
Limited to 15 participants
The monarch butterflies are back and their cycle continues! Come for a small group class to see them up close, learn about their fascinating life cycle, tag and release pre-caught butterflies and then take a hike to look for others. Nets and supplies will be provided. We often find other insects on these walks. Data collected will be added for scientific research through the Monarch Watch Community Science Project.
Fall Birding Class with Scott Surner
The Hitchcock Center is offering a six-week Fall Birding class with Scott Surner. There will be five local trips to various areas in Hampshire and Franklin Counties and a weekend trip to Cape Cod. Scott will help you navigate the fall plumages of Warblers, Sparrows, and waterfowl, plus much more. Fall is Scott's favorite time of year when it comes to birding. Please join Scott this fall.
Sept 2nd:  7:00 AM – 12:00 PM Local. Focusing on fall Warblers and possibly inland shorebirds.
Sept 23rd:  7:00 AM – 12:00 PM Local. Seeking out more fall Warblers, Hawks, and early Sparrows.
Sept 30th:  7:00 AM – 12:00 PM Local. Fall warblers are starting to decrease and Sparrows increasing.
Oct 7th:  7:00 AM – 12:00 PM Local- Prime time for Sparrows.
Oct 20th-22nd, Cape Cod Weekend. Seabirds, Shorebirds, Shearwaters, and maybe even a Whale or two. More info after signing up.
Oct 28th:  7:00 AM – 12:00 PM Local – TBD Last class of the fall season.
Please note- All trips depart from the Hitchcock Center.
Hitchcock's Climate Action Series
An adult engagement program at the intersection of climate change, sustainability, and environmental justice.  Bringing partners and community members together  to address critical community issues through a fireside chat, practical workshops, and deliberative forums.
Goldenrods & Asters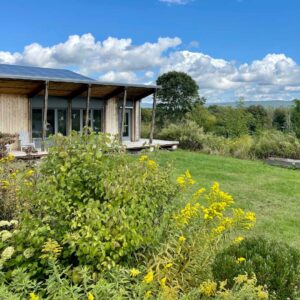 with Adam Kohl
Wednesday, September 27 at 5:00 PM
Spaces is limited, registration required
Sliding Scale tickets $15 – $35 
Join field botanist and entomologist Adam Kohl to learn about these wonderful late fall blooms. On the walk he'll identify various asters and goldenrods to species, discuss various goldenrod and aster specialist insects (galls, leafminers, pollen-specialist bees, and other flower visitors)as well as nocturnal pollination. You will learn their flowering phenology (who's first, who's last, and how to choose species that extend bloom time from Summer to late Fall.). Adam will also offer some helpful tips on propagation techniques and what they prefer in terms of environments (soil, sun, etc), for planting your own. www.adamkohl.info
Hitchcock Harvest
Hitchcock Harvest Feast and Celebration
Sunday, October 1st, 2023
3:00 PM – 6:00 PM
The Hitchcock Center has been sowing seeds of change and educating for a healthy planet in the Valley for more than 60 years. Come and help us celebrate the harvest with local friends and businesses and learn what we are brewing up next! We will celebrate with food, drink, community, garden and building tours, a short program, and lots of fun!
Tickets on sale now!
More events coming in October….
Fireside Chat: Astronomy

Friday, October 6, at 7:00 PM
Registration required
Sliding scale tickets $10-$25
Join us for nibbles and conversation around the fireside while stargazing with Steve Relles.  
Fall on the Range with John Green
October 10, 10am- 12pm 
Space is limited, registration required.
Sliding Scale tickets $15-$40 
Forest Bathing at Dusk
with Todd Lynch, certified Forest Bathing Guide 
Thursday, October 12, 5pm -7pm 
Space is limited, registration required.
Sliding Scale tickets $15-$40 
There is a quiet pulse to the fall forest, as the trees and landscape turn inward and prepare for winter.  It is darker earlier; the leaves fall – creating spontaneous collages on the forest floor and the trees reveal their winter forms. Come experience this changing of the seasons on a Forest Bathing walk with Todd Lynch, certified ANFT Forest Bathing guide. Forest Bathing offers the opportunity to slow down. It re-aligns our rhythms with the landscape, allowing our senses a respite from everyday demands and uncertainties, and gives us a template to practice on our own time at home. It's a chance to remember ourselves and the joyful relationships that await us outside. Come experience what the Forest at the Hitchcock Center might share on this 2 hour experience. 
Forest Bathing and Art Workshop 
with Todd Lynch, certified Forest Bathing Guide 
Saturday, November 4, 9am-3pm 
Space is limited, registration required.
Sliding Scale tickets $40-$85
Join Forest Bathing guide and ecological artist Todd Lynch for a refreshing day of discovery and art making and leave with ways you can integrate these practices into your own rhythms. Forest Bathing combined with ecological art-making can offer us ways to explore our relationships across many levels. These practices root us in our senses in the present moment.
More events coming this Fall and Winter….
Deep History in Amherst with Richard Little
Saturday, November 4 at 4:00 PM
Space is limited, registration required
Sliding scale tickets available
Prof. Richard Little will illustrate how the birth and death of Pangea led to the "Valley of the Dinosaurs" and the formation of rare armored mud balls.  Closer to the present day, Amherst and surroundings were profoundly influenced by glaciers and Lake Hitchcock.  Was Amherst under cold, muddy lake water?  Come to the program to discover the answer to this and other mysteries hidden in rocks and landscapes.  Prof. Little will bring samples and you can bring one or two of yours for identification.  His two books as well as armored mud ball hats and T shirts will be available for purchase.  Please see his web site http://www.EarthView.rocks for more information.
Ice and Snow: The Cold Story 
with John Green
Tuesday, December 5, 6:30pm – 8pm
Registration and Donations appreciated 
Winter is beautiful and John Green's photos will remind you! 
Here in New England we are fortunate to have four distinct seasons.  Although, due to warming climate the annual temperature average may be higher now than in the past.  In southern New England we still experience the influx of migrating birds and blossoming flowers in the spring; thunderstorms and rainbow during the summer and colorful foliage, reverse bird migration and leaf fall in the autumn.  However, recent winters have been less dynamic than those we have experienced historically; landscapes are seldom totally transformed by snow cover and waterways are rarely completely  immobilized by icy conditions due to sustained frigid temperatures.  Fortunately, John has been photographing wintry conditions dating back to the mid 1970's and the this program ICE and SNOW is the result of my love for the season of cold.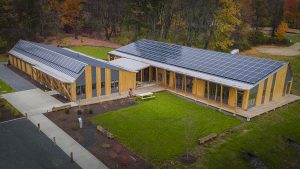 Building Tours for Classes or Groups 
The Hitchcock Center is the 23rd building in the world and the 4th in Massachusetts to achieve the Certified Living Building designation! The building is designed to model systems in nature- it is net zero energy and water, has composting toilets, and has been made with responsibly sourced non-toxic materials. Find out what makes our building a special teaching tool empowering visitors to ask, "what does sustainability look like in the built environment and in my community?" Using Zoom, we'll explore the systems and features of the building. Bring your questions so we can learn together. Tours typically last from 1-1.5 hours and have a sliding scale fee of $100-$200.  Please email dan@hitchcockcenter.org to schedule a tour.
Cancellation policy
Cancellation policy for Hitchcock's seasonal programs: You may cancel your registration for any of our programs up to a week prior to the program's start date to receive a refund minus a 10% administrative fee.  If you cancel within 7 days or less of the program's start date, we cannot offer a refund unless we are able to fill your spot in the program.