Remembering Elizabeth Farnsworth
The entire Hitchcock community is deeply saddened by the sudden and unexpected death of Elizabeth Farnsworth. We will miss Elizabeth's extraordinary talents, creativity, and compassion for all things living. Elizabeth had a long history with the Hitchcock Center as a board member, fundraiser, educator, and contributor. We are lucky to have had the privilege of knowing and working with her. Read more.
A celebration of Elizabeth Farnsworth's life was held Saturday, December 9, 2017, at the Unitarian Society of Northampton and Florence, 220 Main Street, Northampton. A reception followed.
Elizabeth's family suggests that donations in memory of Elizabeth be sent to Hitchcock Center for the Environment, New England Wild Flower Society, Amandla Chorus, or another charity of the donor's choice. Gifts to the Hitchcock Center will help support a fern garden (one of her passions) in Elizabeth's name and for teaching gardens at our new home.
IN MEMORY OF ELIZABETH
I came to know Elizabeth 16 years ago when I was first hired as the Hitchcock Center's executive director. She was on the board of directors at the time, so you could say she was my boss. "Boss" is, of course, an absurd word when describing Elizabeth. She was the ultimate collaborator—as a board member, educator, musician, naturalist, and friend.
Elizabeth was a tireless worker-bee, helping so many people and organizations like the Hitchcock Center to promote greater environmental literacy. Her schedule would often make my head spin with so many projects and engagements. Despite that, Elizabeth was the first to offer help, lend a hand, and give of her time.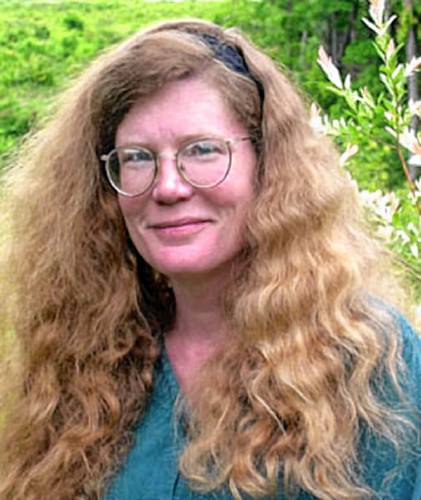 For the Hitchcock Center, that meant being a lead organizer for the Center's Biothon, a 24-hour species count and fundraiser, held every May.  Her knowledge of the natural world was encyclopedic. You can be assured that her Biothon was come back with the highest species count, often topping out at over 300. She was a joy to be with outside.
Elizabeth completed her most recent board term this past September and helped lead the Hitchcock Center through an extraordinary time of transformation and change as we built our visionary new "living" environmental learning center. In fact, when people first walk into our new building, they are greeted by Elizabeth's illustrations on a Welcome Wall that introduces visitors to our mission.
When not serving as a Board member or a fundraiser, I estimate that Elizabeth provided over 60 natural history and botanical illustration workshops in her more than 20 years working with the Hitchcock Center. Children will remember Elizabeth as Mamma Bear, one of the beloved characters she played at our Enchanted Forest non-scary Halloween event. She was always applying her creative talents to further our educational mission like the beautiful coloring cards that are now for sale in our Visitor Center.
Elizabeth's contributions to the Center are invaluable but perhaps the most significant were her regular contributions to the Hitchcock Center's Earth Matters column, a biweekly newspaper column published in the Daily Hampshire Gazette to educate the broader public about the fascinating natural history of our place. I invite you to read all her articles. Her words and writing style are quintessentially Elizabeth and they bring comfort during this time of grief.
Despite all of Elizabeth's amazing accomplishments, she was one of the most humble people I knew. Thank you Elizabeth for being part of my world. I will miss you.
Julie Johnson
Executive Director
Attending one of Elizabeth's (often known as Fernsworth's) fern programs was an exciting, total immersion experience – from the moment she welcomed you into the circle and got the topic rolling to her last, cheery good bye. Her inclusive and gleeful manner supported everyone to learn, to ask, and to meet her where THEY were and continue their learning with her guidance. How much fun a fern walk could be with Elizabeth! She was full of quirky and helpful memory aids. Humor always played a dominant role in her programs. She once taught us a fern dance that enforced the concept of degrees of 'cutting' on a fern frond. I always left a walk with Elizabeth greatly enriched with botanical knowledge and happy and fulfilled from the fun and camaraderie.
Her joy and enthusiasm about ferns was based on deep and comprehensive study. She was co-author of the second (2005) edition of Ferns of Northeastern and Central North America in the Peterson Field Guides series. She worked with her colleague Cheryl Lowe, from the New England Wild Flower Society, to revise and update the guide using current understandings of species and updated nomenclatural changes. They added photographs of the species and Elizabeth contributed some of her illustrations to those in the original edition.  Informed by her academic background, she always presented the material in ways that reached her audience and built upon their existing levels of knowledge. She even circulated to her students a fern fairy tale, Romancing the Fern, incorporating many of the names of local ferns into the plot!
Going along on one of her New England Wild Flower Society Plant Conservation Volunteer plant searches was intriguing and so full of learning. She would provide information to help you feel an important member of the search team. And she would include you in all the methodology of the search.  But she would not try to fill you with surplus information and, even more importantly, would never speak down to you as a fellow botanist; even though her exhaustive background of plant knowledge was far superior to most of ours. To be included as a full, contributing team member and to even make important discoveries, while also learning from Elizabeth, was a skill that she possessed so naturally. I remember one time how she encouraged us to figure out the length of our pace so we could more easily judge distances between landmarks in the field. She gave enough instruction to help us figure it out, but didn't overstep in terms of either doing it for us or trying to make us do it her way! It was important and empowering for me.
Ted Watt
Hitchcock Center Naturalist and Environmental Educator
Elizabeth and I edited the Hitchcock Center's Earth Matters columns for the Gazette along with Michael Dover and Rebecca Reid. I remember suggesting we include her several years ago when we were looking for another editor to join our team. A regular contributor to the column, Elizabeth was a fantastic writer; we hardly ever had edits for her columns. She was the perfect candidate! To our delight, she accepted this volunteer position, despite having a full plate already. Elizabeth, the other editors and I exchanged emails biweekly. She was a wise and thoughtful editor and I looked up to her a lot.
When I heard the news of Elizabeth's passing, I felt the loss for not only the Hitchcock Center community, but for planet Earth. Her writing about nature made science accessible and engaging to the lay reader. Her columns made me laugh, and demonstrated a deep understanding of natural history and avid curiosity. In Earth Matters, she wrote about everything from microscopic water bears (tardigrades) to space flights to moose to rivers. Reading her essays felt more like a conversation with a friend who knows more than you but never, ever talks down to you.
I'm not sure I know other people who did work on so many levels to promote the health of our planet, the academic work of seed saving and rare plant research, regular newspaper columns to educate the public, illustrations to convey nature's beauty, leading nature walks to curious learners. Elizabeth wrote, illustrated, taught, performed, even acted at our Enchanted Forest, all to save the Earth and there's just no replacing her.
Katie Koerten
Hitchcock Center Environmental Educator
Elizabeth Farnsworth died suddenly at the end of October. I'm certain that anyone who has read even one or two of her many Earth Matters columns shares my sadness of this momentous loss.
As coordinator and co-editor of Earth Matters, I have known Elizabeth since the beginning of the column in the spring of 2009. Ours was almost entirely an email relationship, but that didn't lessen my admiration and affection for this immensely talented writer, illustrator, scientist and naturalist. Whether I was reading one of her columns, or going over her edits of another author's draft, or enjoying one of her wonderful illustrations, or just joking about punctuation or grammar, every interaction with her was a joy.
Elizabeth was a prolific and thoroughly engaging writer. I thought that the best way I could honor her in this space would be to share the opening paragraphs from a few of her 29 columns, chosen almost at random. There may be no better way to display her talent than to show how she drew us into her stories. I hope you enjoy them as much as I did in selecting them. Read more…
Michael Dover
Earth Matters Editor
Earth Matters Columns by Elizabeth Farnsworth 2009-2017
How seeds survive the winter, October 20, 2017
Marveling at the wondrous power of seeds, August 25, 2017
A glimpse of the lions of the insect world, April 21, 2017
A good time to talk about the tenacious turkey, November 18, 2016
On nature's resilience and recovery and a sense of optimism, September 9, 2016
Creatures that fool the eye to save their skins, July 15, 2016
Short-lived spring flowers put on a stunning show, May 6, 2016
With spring near, the red fox returns, March 14, 2016
Valley views through the artist's lens, December 19, 2015
Our varied and vibrant Valley vegetation, August 1, 2015
Storms, sprites and other sky oddities, July 18, 2015
Awesome auroras: Watch for them in a sky near you, December 20, 2014
Miraculous migrations in the insect world, September 27, 2014
Water bears: Minuscule but mighty beasties, March 29, 2014
The comet is coming!, November 9, 2013
Downtown Northampton's 350 years of river history, September 14, 2013
Caddisflies: Tiny mobile home builders, August 31, 2013
Floodplain forests – Intriguing, essential ecosystems, March 16, 2013
They're shacking up for the winter — in your house, December 8, 2012
Those busy, useful and amazing ants, September 15, 2012
A new neighbor moves in, July 21, 2012
Online and in the field: The brave new world of botany, March 31, 2012
Bears, bees and others settle in for a long winter's nap, December 24, 2011
Moose in our midst, June 11, 2011
Hard knocks, hard rocks: Geology of the Holyoke Range, November 13, 2010
Feeling drowsy? Finding nifty nap spots in the Valley, June 12, 2010
Keeping a nature journal, February 20, 2010
Visiting the region's wonderful waterfalls, October 17, 2009
Fantastic ferns of the Pioneer Valley, July 11, 2009