Merchandise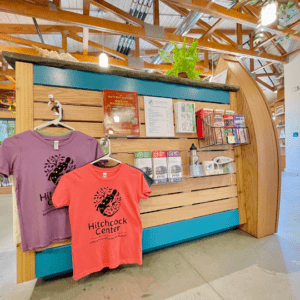 Help support the Hitchcock Center through the purchase of gifts and tools to explore the outdoors. All merchandise is available for purchase at the Center during our normal business hours.
Merchandise and gifts available now in our Visitor's Center:
NEW DESIGN! Hitchcock Center 100% organic cotton  t-shirts for kids and adults.
Bug boxes, hand lenses, and more to help you find and observe insects.
Nature Pocket Guides and books by local authors about the natural history of Western Mass.
Native Species Coloring Postcards featuring original illustrations by Elizabeth Farnsworth.
Hitchcock Center mugs, magnets, water bottles, and more!
Let us know if there is more that we can do to advance your own quest for greater environmental knowledge and understanding.