Children, Youth and Family Programs
Hitchcock Center programs offer a unique opportunity for children to develop friendships, learn through hands-on activities, discover through play, and grow as creative problem solvers. Each program has activities that incorporate learning from nature.
Our emphasis is on providing inquiry-based environmental and outdoor education programs for small groups, but we are placing a heightened focus on meeting the need children have for unstructured time with their peers. It is essential to children's social-emotional development and general sense of well-being to be able to play and be free outside with each other!   
Programs may also be viewed in a calendar.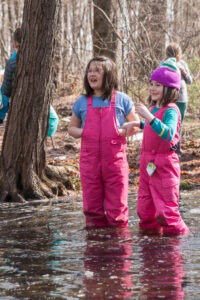 Click below for more information about the following programs:
A note about registration: Many of our programs fill quickly, so we highly recommend registering on the waiting list. We go to this list first if a space opens up. By adding your name, you can help us better plan for the programs that are in high demand.
Fees
Out of a strong commitment to improve access to our programs we are now offering a sliding scale fee structure aimed to provide greater flexibility in choosing a price that is right for you and your family.
Tier A: The fee is set 15% higher than what it costs to run the program and helps to support those who cannot afford the full cost of the program.
Tier B: The fee is set to cover 100% of the program costs.
Tier C: The fee is set at 15% less than what it costs to run the program.
Tier D: This fee is set at 35% less than what it costs to run the program. This option is available for EBT, WIC, and Connector Care Card to Culture participants, that is, households receiving benefits through the Massachusetts Department of Transitional Assistance and the Massachusetts Health ConnectorFees
Cancellation policy
Cancellation policy for fall 2022 programs: You may cancel your registration for any of our fall programs up to a week prior to the program's start date to receive a refund minus a 10% administrative fee.  If you cancel within 7 days or less of the program's start date, we cannot offer a refund unless we are able to fill your spot in the program.
COVID-19 Safety
Read our complete COVID-19 Program Participant Guidelines.
Our programs are designed to be fun and engaging and above all safe. The COVID-19 program guidelines are designed to help protect everyone as we meet the strict health and safety requirements of the CDC and our state. Please take the time to read the information thoroughly. If you feel that you or your child(ren) cannot follow these guidelines, we ask that you wait until these restrictions have been lifted to join one of our programs or events. We may change our guidelines to reflect new guidance from CDC and Massachusetts.