Living Building Tours

The Hitchcock Center has provided building tours for over 3,000 visitors including students of all ages, community members, sustainability and design professionals from every state in New England, as well as states across the country, and visitors from over 30 countries from around the world. We welcome you to stop in and visit us during our open hours, join a tour, or learn more right now with our informational guide in English or in Spanish.
The case study for Hitchcock's Certified Living Building is available on the International Living Future website.
The Hitchcock Center received the 2018 Honor Award for Sustainable Design from the Boston Society of Architects (BSA). The BSA jury had this to say about our project:
"Hitchcock Center for the Environment is a strong example of architecture's power to educate. This center doesn't merely talk the talk by housing an environmental educational program; it walks the walk. Living Building Challenge designed, the structure is thoughtfully integrated with its site and existing systems. Its formal qualities, its graphics, and its performance achievements combine to tell a complete and compelling story about design."
Building Tours for Classes or Groups
Sliding scale fee: $100 – $200
To schedule a tour please contact Dan Butterworth
Living Building Challenge asks, what if every single act of design and construction made the world a better place? The Hitchcock Center is the 23rd building in the world and the 4th in Massachusetts to achieve the Certified Living Building designation! It is designed to model systems in nature, it is net zero energy and water, has composting toilets, and has been made with responsibly sourced non-toxic materials. Find out what makes our building a special teaching tool empowering visitors to ask, "what does sustainability look like in the built environment and in my community?" We'll explore the systems and features of the building. Bring your questions so we can learn together. Tours typically last from 1-1.5 hours.
While you're here, check out our neighbors over at the R.W. Kern Center at Hampshire College, another Living Building Challenge project.
Build Better
Curious to learn more about how the Hitchcock Center's Living Building is used as an advocacy tool for social and environmental change? Check out designLAB Architect Sam Batchelor and former Hitchcock Living Building Coordinator Jessica Schultz on the Build Better Podcast as they talk about what it means to construct and teach from a Living Building. (Direct link available here.)
Available for Purchase at the Hithcock Center
Every day for several years, women and men carried out seemingly ordinary work-related tasks to accomplish something extraordinary. Jonathan A. Wright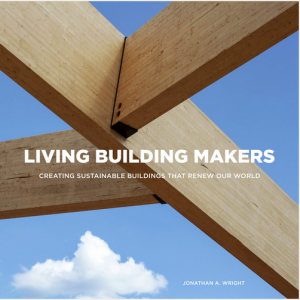 Celebrating the champions addressing climate change, Living Building Makers: Creating Sustainable Buildings That Renew Our World is a handcrafted collection of stories about the remarkable people who bring the built environment to life. Each chapter captures the insights, creativity, humor, and discoveries of the often-unsung individuals – builders, tradespeople, designers, engineers, educators, tradespeople, operators and owners – who rolled up their sleeves to play a pivotal role in creating two of the greenest buildings in the world on the campus of Massachusetts' renowned Hampshire College — Hitchcock Center for the Environment and the R. W. Kern Center.
Veteran builder Jonathan A. Wright's storied first-hand accounts share how these dedicated professionals transformed their corner of the world by the way they leaned into their work. In the process, the nature of their own work is changed forever. Available for purchase in Hitchcock's visitor center.
Praise for LIVING BUILDING MAKERS
"If you have seen these remarkable structures, you will want to read the stories behind them. But even if you've never been to Hampshire College, the stories in Living Building Makers will bring the process of sustainable building alive – to call them "Living Buildings" is entirely appropriate, for they stem from real people with real hopes and dreams."
Bill McKibben, author Falter: Has the Human Game Begun to Play Itself Out? Schumann Distinguished Scholar, Middlebury College
"Architects, perhaps understandably, get the lion's share of the public credit for exceptional buildings. But Living Building Makers introduces us to the engineers, electricians, carpenters, plumbers, and other unsung heroes who all perform at their peaks to achieve ultra-high-performance structures. This book is a powerful reminder that it takes a village to create Living Buildings."
Denis Hayes, President, Bullitt Foundation, Principal national organizer of the first Earth Day
"Living Building Makers is an extraordinary book. It is as much about the people and what motivates them as it is about the buildings."
Bruce Fowle, Founding Principal, FXCollaborative Architects
"Living Building Makers underscores what Antoine de Saint-Exupery allegedly said: "If you want to build a ship, don't drum up people to collect wood and don't assign them tasks and work, but rather teach them to long for the endless immensity of the sea." In the same spirit, this book teaches us to long for a more just, beautiful, and life-affirming world. Further, Jonathan A. Wright masterfully conveys the creativity and excitement that can go into building that "ship" – in this case, two Living Buildings in Massachusetts. With elegance, insight, and wit, Wright tells of builders and makers, and gives us a map, a compass, and a compelling invitation to join in tackling the challenge of creating a world in which all beings can thrive."
The Rev. Dr. Margaret Bullitt-Jonas, Missioner for Creation Care, Episcopal Diocese of Western Massachusetts, Mass. Conference, United Church of Christ. Author of Rooted & Rising: Voices of Courage in a Time of Climate Crisis, ed. Margaret Bullitt-Jonas and Leah D. Schade (Rowman & Littlefield, 2019).
"Living Building Makers is a life-restoring account of deep green and humane design and construction projects. It's as if, after all these years, we've found "How I Built That Ark", a book written by Noah to describe how he toiled… by hand, with boards close by, and with lots of inspired help."
Christopher Lydon, Radio Open Source