Annual Reports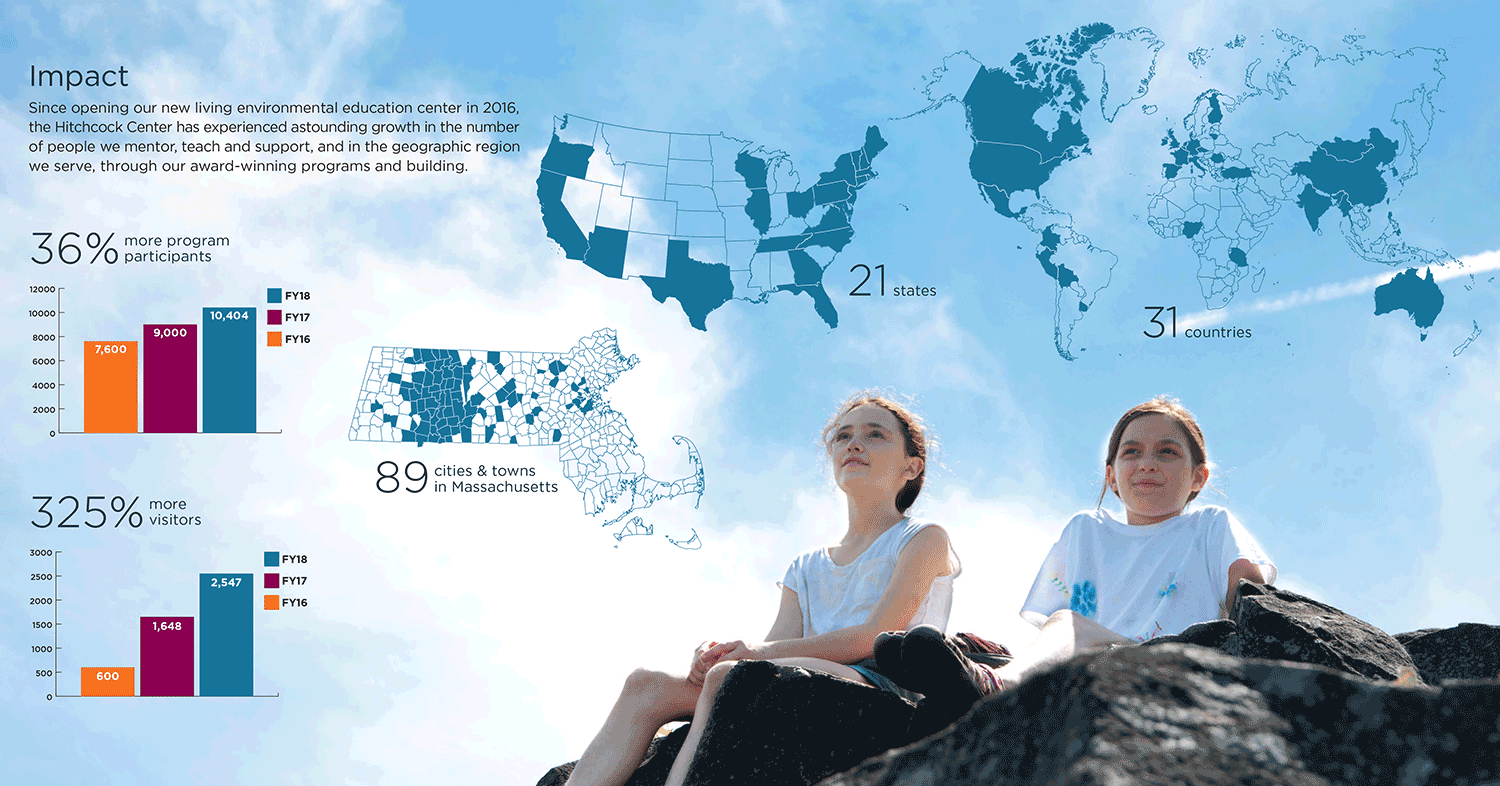 Each year, the Hitchcock Center serves an average of 12,000 program participants and visitors throughout western Massachusetts and beyond.
5,500 K–12 student participants gain greater scientific understanding through standards-based, interdisciplinary programs focused on the local environment and real-world  challenges.
2,150 Children, youth, and family participants engage in hands-on science and nature discovery programs designed to engage the whole child and family in greater connection and commitment to the natural world.
525 Professional development participants explore new curricula and methods to strengthen the integration of science, ecology and environmental sustainability in their daily work.
2,100 Adult participants gain knowledge and skills through natural history, citizen science, and sustainability programs.
89 Urban and rural communities in Massachusetts are assisted by the Hitchcock Center to promote regional environmental literacy and sustainability. Participants also come from 21 states and 31 countries.
237 Volunteers provide important program, operating and development support to keep our organization strong.
Statistics based on FY18.
Annual Reports
Read our FY17 & FY18 Annual Report (PDF 4MB)
Read our FY16 Annual Report (PDF 4MB)
Read our FY15 Annual Report (PDF 1.8MB) Print version (PDF 2.9MB)
Read our FY14 Annual Report (PDF 1.5MB) Print version (PDF 1.6MB)
Read our FY12/FY13 Annual Report (PDF 11MB)
Annual Form 990
View Form 990 FY22
View Form 990 FY21
View Form 990 FY20
View Form 990 FY19
Audited Financial Statements
View Financial Statement 6.30.2022
Donor Privacy Policy
The Hitchcock Center's Commitment to Our Donors
We will not sell, share or trade our donors' names or personal information with any other entity, nor send mailings to our donors on behalf of other organizations.
This policy applies to all information received by the Hitchcock Center for the Environment, both online and offline, on the website, as well as any electronic, written, or oral communications.
To the extent any donations are processed through a third-party service provider, our donors' information will only be used for purposes necessary to process the donation.