Update on the Massachusetts Adaptation of the Next Generation Science Standards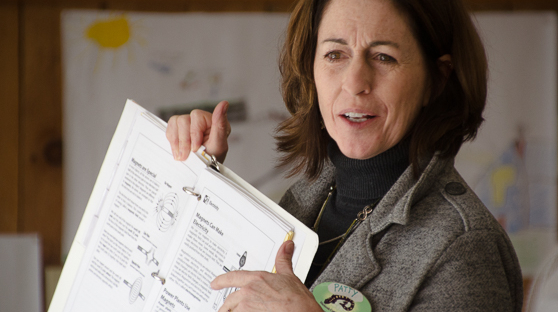 By Patty O'Donnell and Colleen Kelley
Hitchcock Center educators have been paying close attention to the evolution of the Next Generation Science Standards (NGSS) since the 2011 release of the Framework for K-12 Science Education, a key guiding document that elucidates the need for revising how and what we teach about science.
Traditional approaches to teaching science tend to be fragmented, like a patchwork quilt, lacking threads of continuity that connect science and real-world applications. Now we realize that the tapestry approach is what is needed, beginning at the earliest years. How do we weave together the warp and weft, starting with simple patterns, and building more intricate designs as our knowledge progresses? This is what environmental education is all about, and why we at the Hitchcock Center are excited about the new Science Standards.
We're particularly focused on the process in Massachusetts, so we can continue to offer high-quality, standards-aligned science curriculum to public schools in the Pioneer Valley, and beyond. During the 2015-16 school year, the MA Department of Elementary and Secondary Education anticipates completing the draft of the Revised MA Science and Technology/Engineering Standards (published December, 2013). Hitchcock Educators have attended several meetings across the state to keep our fingers on the pulse of this transition.
Hitchcock environmental educator, Patty O'Donnell, had the opportunity to attend a 2-day Science Ambassadors training at the Boston Museum of Science, June 10-11, 2015, to become an official Observer. The Science Ambassador Team will play key roles in helping support school districts to interpret the revised science standards, and implement these changes in their curriculum. We are excited to have this opportunity, because we feel the strong MA focus on Science Practices reflects how we teach – using inquiry, hands-on experiences, and connections to the natural world and global environmental concerns.
Hitchcock Center's goal is to support school districts in making the transition to the revised Science, Technology and Engineering standards. We have been actively planning for this, including development of three teaching units for 3rd, 4th and 5th grades that align with the NGSS standards. These units have been available on our website and will be updated to incorporate the revised MA standards. All of Hitchcock's classroom and fieldtrip curriculum have also been re-aligned. We have already been contacted by several school districts to guide teachers through the process of adapting their curriculum during the next academic year.
It's an exciting time for science education in the Commonwealth and the Hitchcock Center looks forward to working with science teachers to implement these changes.
Patty O'Donnell is an Environmental Educator at the Hitchcock Center. She plans, develops, and teaches curriculum for Hitchcock Center K-8 School Programs, including field trips, classroom presentations, residencies, and professional development for teachers. She is also actively involved with statewide educator networks to assist districts in transitioning to the Revised MA Science & Technology/ Engineering Standards, currently in Draft form.
Colleen Kelley is Education Director at the Hitchcock Center. She provides strategic oversight and direction of the Center's comprehensive environmental education programs. She stays up-to-date with the best practices of environmental education and provides professional development to formal and informal educators in the field. Colleen also directs the Center's internship program.
Click here
to return to full list of blog entries. Or chose a specific Blog category below.
Blog categories