Adult Community Programs
Hitchcock's Climate Action Series
An adult engagement program at the intersection of climate change, sustainability, and environmental justice.  Bringing partners and community members together  to address critical community issues through a fireside chat, practical workshops, and deliberative forums.
Ice and Snow: The Cold Story
with John Green
Tuesday, December 5, 6:30pm – 8pm
Registration and Donations appreciated 
Winter is beautiful and John Green's photos will remind you! 
Here in New England we are fortunate to have four distinct seasons.  Although, due to warming climate the annual temperature average may be higher now than in the past.  In southern New England we still experience the influx of migrating birds and blossoming flowers in the spring; thunderstorms and rainbow during the summer and colorful foliage, reverse bird migration and leaf fall in the autumn. 
However, recent winters have been less dynamic than those we have experienced historically; landscapes are seldom totally transformed by snow cover and waterways are rarely completely  immobilized by icy conditions due to sustained frigid temperatures.  Fortunately, John has been photographing wintry conditions dating back to the mid 1970's and the this program ICE and SNOW is the result of my love for the season of cold. 
Fireside Chat: Astronomy

RESCHEDULED DATE TBD
Registration required
Sliding scale tickets $10-$25
Join us for nibbles and conversation around the fireside while stargazing with Steve Relles.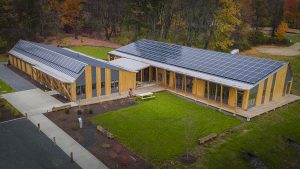 Building Tours for Classes or Groups 
The Hitchcock Center is the 23rd building in the world and the 4th in Massachusetts to achieve the Certified Living Building designation! The building is designed to model systems in nature- it is net zero energy and water, has composting toilets, and has been made with responsibly sourced non-toxic materials. Find out what makes our building a special teaching tool empowering visitors to ask, "what does sustainability look like in the built environment and in my community?" Using Zoom, we'll explore the systems and features of the building. Bring your questions so we can learn together. Tours typically last from 1-1.5 hours and have a sliding scale fee of $100-$200.  Please email dan@hitchcockcenter.org to schedule a tour.
Cancellation policy
Cancellation policy for Hitchcock's seasonal programs: You may cancel your registration for any of our programs up to a week prior to the program's start date to receive a refund minus a 10% administrative fee.  If you cancel within 7 days or less of the program's start date, we cannot offer a refund unless we are able to fill your spot in the program.