Grant Funding Supports New Early Childhood Education Program
The Hitchcock Center recently received a grant award in the amount of $20,000 from the Francis R. Dewing Foundation to start-up a new early childhood education program this fall.
The Hitchcock Center's Small Wonders: Using Science and Nature to Grow Young Minds will increase the integration of high quality science and nature-based education into early childhood programs and schools throughout the Pioneer Valley. A total of 375 early childhood educators, providers and professionals will be assisted along with an estimated 1,500 students and children.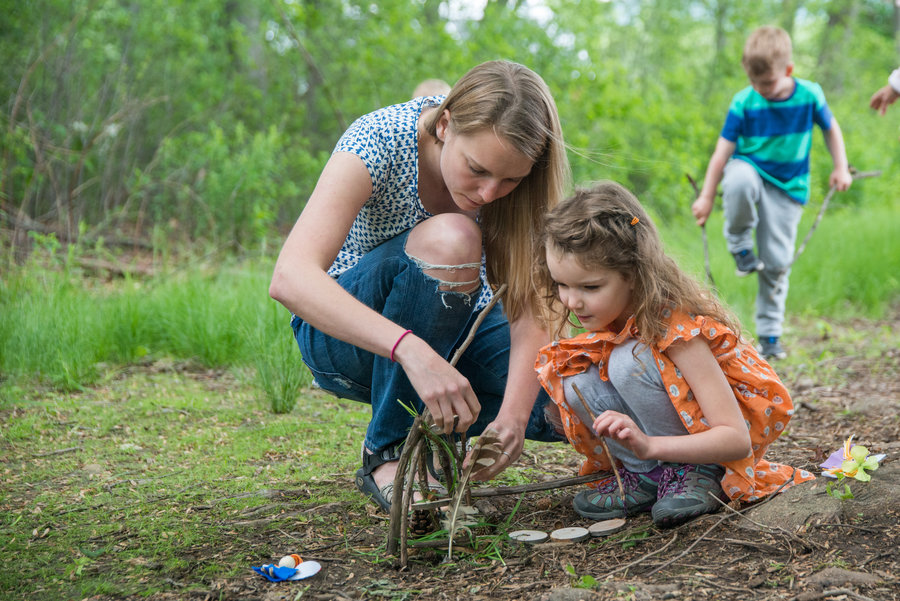 As nature-based education is being recognized more and more as highly beneficial to a child's social, emotional and intellectual development, the Hitchcock Center is increasingly being called upon to consult, advise and train other early childhood educators and providers.
With funding support from the Francis R. Dewing Foundation, new workshops and curricula, informational brochures and pamphlets, classroom and parent resources, training modules, and technical assistance will be developed. Teachers and providers representing over 40 different early childhood programs will be assisted with new teaching methods, resources, tips and techniques aimed at increasing the amount of time their students and children spend outdoors.
Our approach will be holistic by design, working with a wide segment of targeted audiences including teachers, caregivers, parents and professionals, recognizing that it will take a multifaceted approach to truly "change culture" into one that better integrates science and nature into the daily lives of our young children.
Planning is underway this summer as Colleen Kelley, the Hitchcock Center's Education Director and Kay Lisseck, an early learning specialist and consultant hired by the Center through this grant, work together to develop a four-part workshop series that will provide instruction support on topics such as: Creating a Nature-Based Culture; The Importance of Nature Play and Natural Landscapes; Using the Outdoors for Effective STEAM Learning (Science, Technology, Engineering, Art and Math); and What We Learning Through Play: Creativity, Imagination and Big Ideas. As well, five early childcare and family daycare centers will be selected to receive more in-depth follow-up and mentoring support at their individual sites through additional Individualized in-service training and mentoring. The goal is to increase the amount of time their children spend outdoors by 10% or more. Providers will be introduced to age-appropriate activities, experiments and explorations that use their children's imagination and natural curiosity inside and out of the classroom. Classroom modeling of a nature-based STEAM activity along with tips and techniques for outdoor classroom management, a school grounds assessment, and a parent involvement toolkit will be provided.
While the need for nature experiences in early childhood education is clear, many teachers feel unprepared to facilitate meaningful and enriching science and nature activities and instruction. In general, teachers in the early childhood and elementary years have limited college coursework in science, and most report science as an area they feel unprepared to teach. Through the Hitchcock Center's Small Wonders program, we will empower teachers with the knowledge and expertise they need to engage their young students in enriching and educational experiences in the outdoors.
The Hitchcock Center's Small Wonders: Using Science and Nature to Grow Young Minds program will open for registration in mid-August. Please follow us on your favorite channel — website, enewsletter, social media — for registration details.
Click here
to return to full list of blog entries. Or chose a specific Blog category below.
Blog categories