Naturalist and Educator Ted Watt Retires After 35 Years at the Hitchcock Center
Introduction
Ted Watt, one of the Hitchcock Center's much-loved naturalists and educators, has retired after 35 years of education work, leaving a legacy spanning generations of school children, countless teachers, and a community with an increased knowledge of our natural world. His talents and knowledge shaped many programs and partnerships that continue on today.
Patti Steinman, Education Coordinator and Camp Director at Mass Audubon's Arcadia Sanctuary, has collaborated with Ted since she was an intern with the Hitchcock Center in 1980. She says, "Ted is the ultimate professional who embodies the four key traits of a successful well-rounded naturalist: knowing natural history; knowing how to teach it; contagious enthusiasm; and blending in environmental ethics."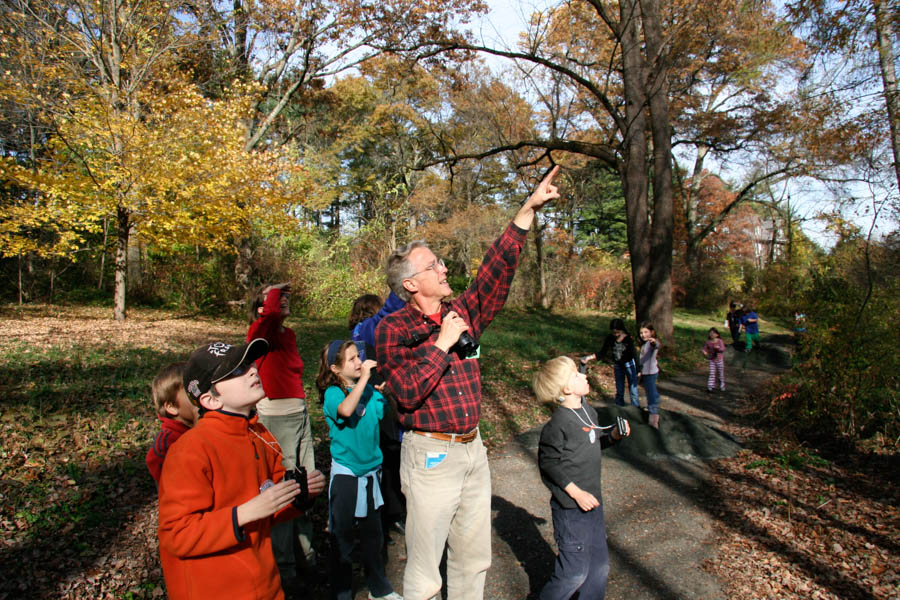 A Nature Lover From The Beginning
Ted was inspired from an early age to appreciate observations and develop an ethic for the natural world. He remembers the day his grandmother lifted him up to look at the tiniest nest of a ruby-throated hummingbird in a forsythia bush. At age 9 his mother enrolled him in a gardening program where he got to plant his own corn, which grew taller than he was. Each summer, his dad would take Ted and his brothers backpacking on the Long Trail, where one year Ted found a beautiful junco nest. In high school, a neighbor who served on the board of the Nature Conservancy influenced Ted's thinking on ownership and stewardship of land.
Ted recalls his Field Botany professor from Earlham College, Dr. Carolle Markle, a deeply knowledgeable botanist who helped Ted develop his eye and understanding about plants. In her class Ted spent two afternoons a week in the local woods and fields with classmates, digging up wildflowers, placing samples into their vasculums (metal, lidded carrying cases with shoulder straps), and literally running to catch up with Carolle as she plowed ahead. Back in the lab, they'd spend the next three to six hours keying out their samples using the 800-page Gray's Manual of Botany. The botanical jargon was overwhelming and the frustrations plentiful, but Carolle's students learned to observe and identify plant characteristics through that arduous process. Through this experience Ted began to develop an internal catalogue of plant families and genera that serves him to this day.
After graduating from Earlham in 1972, Ted started his career at Mass Audubon's Drumlin Farm. He continued to learn both by working on the job as a teaching naturalist, and by studying on his own and informally through Audubon, the Native Plant Trust, and other environmental organizations. After two detours—an aborted doctoral program in plant taxonomy and a stint as a land surveyor—he returned to education, which would be his life's work.
Ted lived in eastern Massachusetts for ten years before being drawn to western Mass for a relationship and a life more connected to nature. When he moved to Greenfield, he volunteered at Northfield Mountain, the Mass Audubon Arcadia Sanctuary, and the Hitchcock Center. He learned a lot from these experiences and worked on staff at Arcadia for two years. Bev Cowdrick, Hitchcock's Executive Director in the early 1980s, hired him to teach school programs. It was the beginning of a powerful role that would span 35 years and influence countless students young and old, as well as teachers who passed on what he taught them.
A Teaching Style Rooted in Kindness and Respect
Ted learned early on that being outdoors and providing a loose structure for exploration and observation enabled young people to channel their energy and excitement in positive directions. Ted is famous at Hitchcock for modeling excitement about what the group was learning. That excitement, he says, helped a lot.
Though he possesses an enormous amount of knowledge, Ted would never overload children with "adult" concepts and information. He explains, "Once someone is captured with the wonder of a topic, they can pursue more in-depth learning when they are ready. I tried to treat every learner with respect and kindness. Kids know when adults are doing that and most respond very quickly with a sense of fun, a cooperative spirit, and kindness." Hitchcock educator Katie Koerten remembers, "Ted taught me that teaching doesn't always have to be about the content, that it is about the learner. Ted embodied this by creating a welcoming space for everyone—kids and adults alike—to discover the natural world together."
A favorite story for all staff, including Ted himself, comes from Ted's extensive time at Ryan Road School in Northampton. During a tick check at the end of a kindergarten field trip, Ted carefully showed each of the students a tick that had been found on one of the children. One student looked at the tick and then impulsively blew it off Ted's finger, directly at Ted's body. Ted was surprised, but didn't react, wanting the student and the other children to stay focused on the tick itself, and not the disruptive action. This proved a wise strategy. The student subsequently apologized to Ted for blowing the tick at him and developed a marked interest in ticks, even naming his baseball team Ted's Ticks. One day, he proudly reported to Ted, "I found a tick on my Mom and I took it off her so it wouldn't bite her!" And once, while Ted was waiting in the school office, the student walked by and said: "Hey Mr. Ted, there's a tick crawling on your shirt." And there was!
Micky McKinley, a colleague at the Hitchcock Center and friend of Ted for 30 years, said that these kinds of conversations and connections with children were common. "His teaching and sharing a love of nature and love of children is a part of who he is. Kids respond to that authenticity. It's who he is. He is Mr. Ted."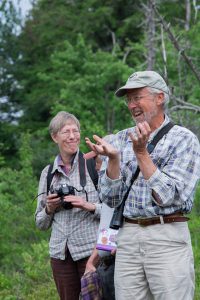 Working with adults was similar for Ted except that it is possible to go more in depth with content, connections and complexity. He says, "I love to encourage adult learners to observe and consider what they are noticing through the lenses of broader natural history implications, ecological relationships, adaptations to survival, and evolutionary connections. I am not a scientist, although I try to be conversant with the languages of science. But I love speculating about science and nature and then delving into the literature to see if anyone has researched these topics."
One of Ted's favorite programs was Nature All Year, a program he worked to develop with Tamsin Flanders. The idea was to create a group of 15–20 adults who would gather once a month to learn about a focused topic for three hours. Ted taught some of the sessions himself; guest naturalists joined other sessions to share their areas of expertise such as trees, insects, birds, ferns, stream biology, and vernal pools.
Jaana Cutson, two-term past President of Hitchcock Center's Board of Directors, has attended many walks with Ted. She calls him "a rockstar naturalist who has a knowledge database both of natural plants and garden plants that is unparalleled in the Valley. But his soft demeanor and approach in leading people to become aware of answers at their own pace and level made it seem as if he was always next to you, learning with you."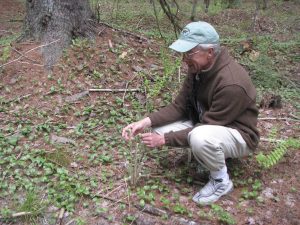 When it came to teachers, Ted demonstrated new concepts and activities to help them become more comfortable teaching science. He introduced them to the natural world within their own school grounds and helped them develop confidence in taking children outside. Andrea Egitto, a kindergarten and first grade teacher at Ryan Road Elementary in Northampton, remembered Ted providing unforgettable experiences for their teachers, like the time he took them out on a warm rainy night in spring to the vernal pool near the school. The teachers never forgot the experience of being in the woods, in the rain, at night looking for salamanders in the dark.
Gillian Andrews, a teacher at Deerfield Elementary, worked with Ted developing curricula. She said that creating energy and systems thinking lessons with Ted was one of her favorite activities. "I had so much fun working with Ted, experimenting with ideas and materials to develop new lessons and activities. Everything we designed was developed to push the thinking of both the students and the teachers." Out of their collaboration, Gillian and Ted co-authored the 2018 Science and Children article "How Can We Store Water During a Drought? A sustainability engineering design problem for fourth graders" to share their work more broadly.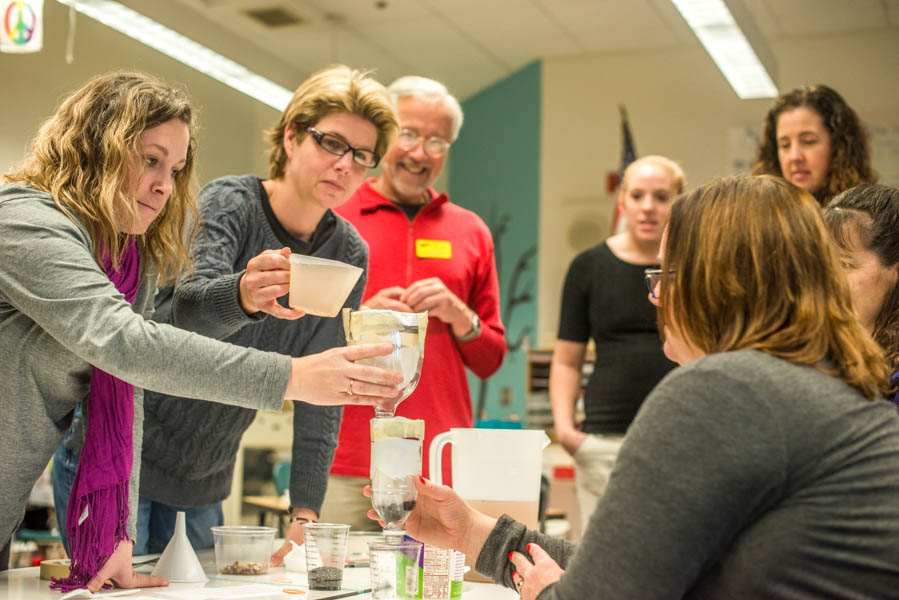 Developing and Teaching Programs
Ted's creative side got a chance to flourish as he directed numerous Hitchcock-specific projects throughout the years: the Nature All Year Study Club, the Henry Street salamander tunnels, the Elizabeth Farnsworth Memorial Fern Garden, Mass Cultural Council STARS residencies, professional development programs for teachers, community programs for adult learners, development of science curricula for local schools, the building of a bilingual science program in Holyoke, the Valley Environmental Education Collaborative, the salamander cover board study, the butterfly trail at the old Hitchcock Center at Larch Hill, to name just a few. He consistently served the community as a resource for questions that arose.
One of his favorite programs was Hitchcock's annual and much beloved Enchanted Forest, which provided a safe format on Halloween for families to stroll in guided groups outdoors in the dark and learn in fun ways. Educators would dress up as nature characters, with distinct personalities and creative costumes, greeting visitors with a presentation about a nature theme. Ted's favorite character was Dr. Detritus, whose theme was decomposition. He dressed in brown and lay down in a shallow trench, covered completely with leaves. When a group approached, he sat up unexpectedly from under the leaves and spun silly stories about burials, a dead woodchuck, and rice maggots. It was a winning combination of surprise, disgust, and instruction! Ted hopes some of you still remember Dr. D!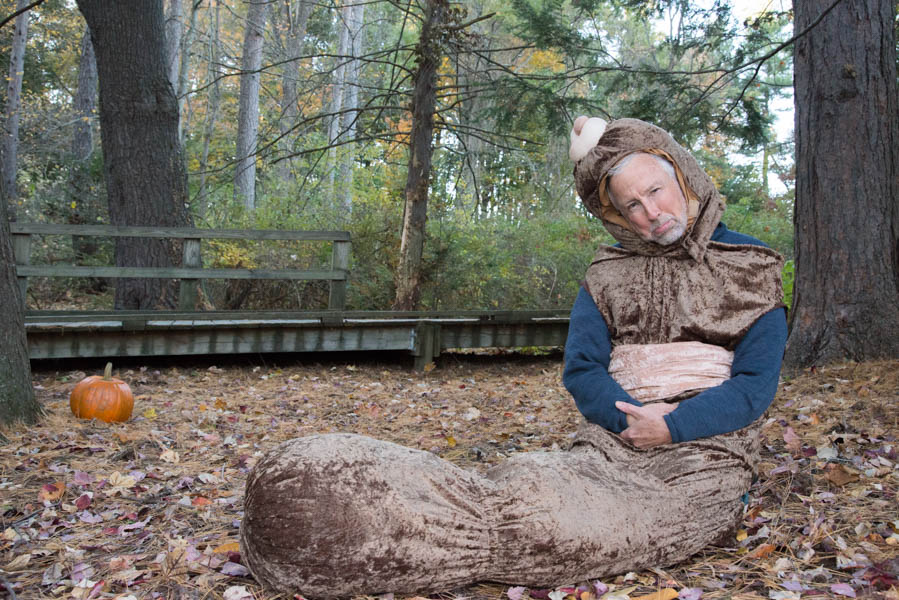 Beloved by Coworkers and Community
Ted leaves a hole on the Hitchcock Center staff that cannot be filled. A treasured team player, Ted's contributions to staff meetings, decisions, and planning were always kind, thoughtful and reflective of the deep passion and caring that he feels for the Center's mission. Helen Ann Sephton, Hitchcock school programs coordinator and a colleague of Ted's since 1989, said, "He always made it a point to meet and know everyone and make them feel welcome." A self-proclaimed introvert, Ted knew how to draw out the people around the table who hadn't shared their opinions yet, always noticing them and gently inviting them to speak. With Ted, there was no such thing as an "inside joke;" he always let you in on the joke with a laugh and a twinkle in his eye. He was careful to include, taking the time to explain the context of a conversation or situation to any new arrival. Katie Koerten loved how Ted "would always support staff. He lifted people up and respected other people's work."
Ted treated his coworkers as equals, yet he was also a mentor to everyone, especially when it came to natural history knowledge. Hitchcock educator Helen Ann says, "I always knew more when I was out for a walk with Ted than when I wasn't with him. There was something about being with him that helped me remember more of what I knew." Everyone on staff learned from Ted.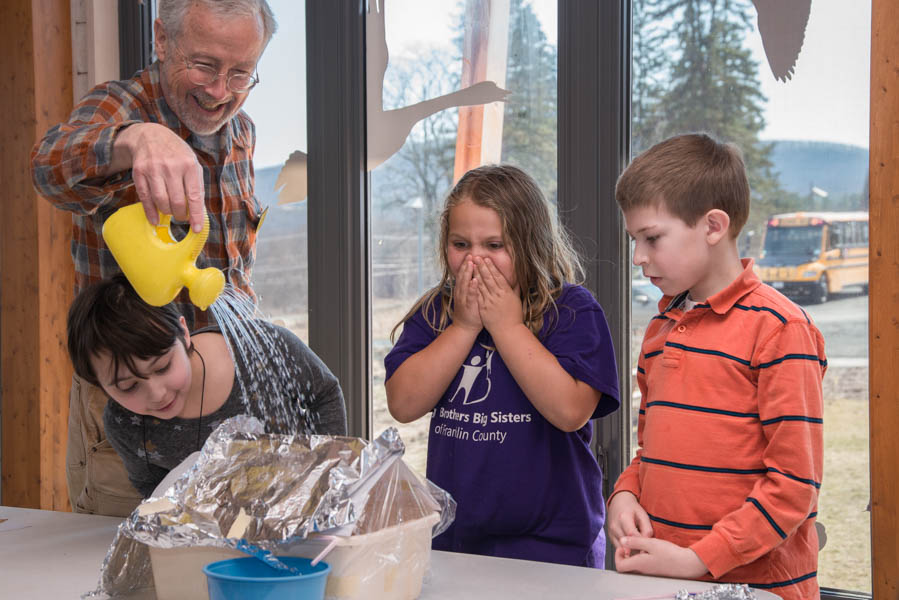 Future
When asked about his hopes for the future of the Hitchcock Center and nature education in the Valley, Ted responded with his characteristic optimism and care. "Our Valley is amazing! The combination of culture and nature provides so much. I trust that moving forward, Hitchcock and the environmental centers in the area will continue to promote nature understanding and appreciation. And will continue to take leadership roles in promoting sustainable life styles for ALL members of our communities. Our centers will continue to raise compelling environmental issues for our community and beyond and to provide clear discussion of the content behind them. The difficulties of accessibility and equity for ALL residents continue to challenge us. I encourage ALL to find ways to bring our communities together. The healing powers of nature have always been very powerful for me. My vision for the future holds that this healing be available to ALL."
Click here
to return to full list of blog entries. Or chose a specific Blog category below.
Blog categories